Description
Scratch off the countries and states you've been to. Get motivated to explore more. A must for travelers. We designed this Scratch Map for wonderful people like you.
All capitals, states, and countries were drawn by hand. Yes, that's right.
This Black & Gold Scratchable Map will not only allow you to track your travels but also share your experiences with your friends.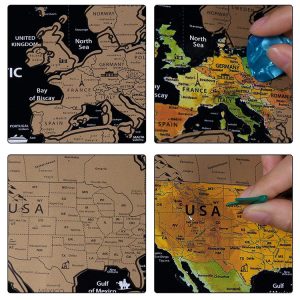 Best Conversation Starter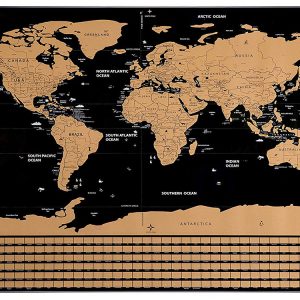 It's never been easier to share your travel experiences with those around you and create engaging conversations.
People are going to talk about this Map when they see it on the wall. Goodbye, awkward silences!
It even fits on the side of your backpack while traveling around the World!
Brilliant Quality & Multiple Accessories
We chose the highest quality glossy laminated paper to offer a product that will last until you travel all 195 countries and beyond! A thin foil protects the colors during scraping which gives you a nice & clear image of each place you've visited.
Your package will also include: a scratch tool, memory stickers to pin each new adventure, an eraser to fix blurs, and a magnifying strip so you can see the smallest details.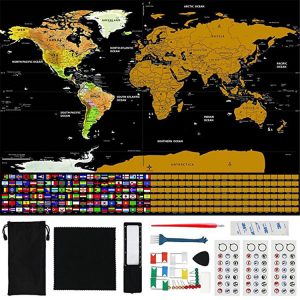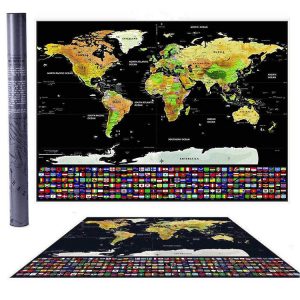 Everyone loves receiving unique creative gifts and a scratch map set is the absolutely perfect one. You or your loved ones can use it to elegantly decorate your room, office, or even the pilot cabin!
Our customers have told us how they blew their friends' minds with this gift.
Traveler or not, this gift will instill a strong desire for travel in your friends and yourself.
No map will ever arrive damaged considering our deluxe tube which protects your wall art 100% of the time. If you ever have any issue with your map, just let us know and we'll fix the problem right away!